Tea Cottage is now, August 25, 2014, no longer in use for holiday rentals!

The history of 'the Renderklippen'.
There are a lot of beautiful places on earth. One of those places is in the Netherlands, Gelderland, Veluwe, Epe.
De Renderklippen can be found here.
About 1924 sir G. J. Jongkindt Koninck bought 330 hectares/815 acres of land from the municipality Epe and Heerde and called it
'Estate de Renderklippen'.
There are rumours that he placed his walking-stick on the highest hill of the moraine created by the Ice Age
and ordered to build a manor on it with fantastic views over the moor; 'Manor de Renderklippen'.
Near to the house, there was a house for the driver and a house for the gardener. A bit further away there was a tennis court with a tea-house, now holiday cottage
"Het Theehuisje".
. Different areas of the moor were afforested. Path were created through the forest and on the moor, these are still there. Viewpoints and belvederes were made on some higher hills of his estate. One of them still exist and is located near a fen; het Pluizenmeertje.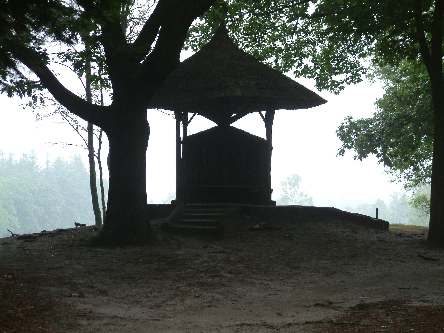 Sir Jongkindt Konick never lived in his house because he died early. His daughter got the estate. She married one of the sons of Sir Ritsema van Eck, who had the neighbouring estate "de Hoge Heide". The marriage made that the estate was now 750 hectares/1853 acres big.

During the war this estate was taken by the Germans. After the war the family Ritsema van Eck sold the estate 'de Renderklippen' to the government of Epe. The house had several owners and was for a small period of time property of a Hotel company: 'Hotel de Gude', which is now known as 'de Golden Tulip'.
My (Emmelies') parents bought it from the government of Epe in 1954. Before that time, 4 years long nobody lived in the house. In this period it became a kind of fairytale house, overgrown with ivy.

My parents, a Aunt, my brother and I moved here when I was just half a year old and I lived here ever since, except from a view years in Utrecht.

In 1984 my husband and I came living here permanently, so we good look after my aunt.

My Aunt, sister of my father, died in 1989.

In 1990 and 1992 we got our children, Aonne and Jane.

In 1998 on the 3rd of September, the house burned down. In 2000 we started rebuilding the house and we were finished in 2002 and again started living in this different but impressive, beautiful house.